You might be wondering if there are any functional differences between free weights and weight machines, and a very basic answer to this is, free weight machines are low-tech while weight machines are high-tech. In reality, though, these two have some significant differences and advantages for different groups of people. Read on to learn more about the differences between weight machines and free weights, and which you should use: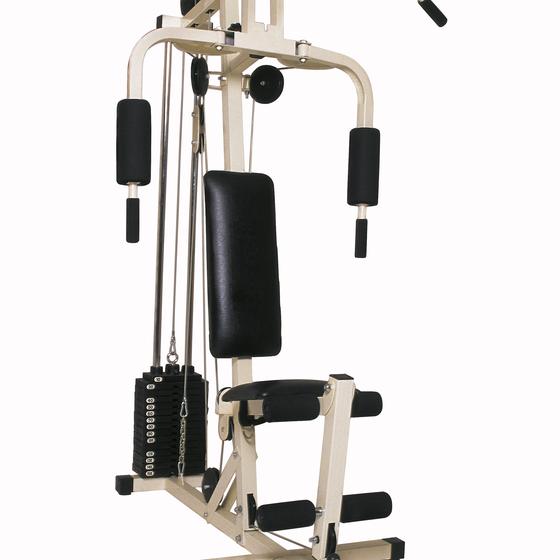 Free Weights
Free weights are basically objects that can move freely in three dimensional spaces. Examples of free weights include dumbbells, barbells, high/low or adjustable pulley system, lat pull-down and low-row device, all types of medicine Balls (including kettle bells) and ankle weights.
Free weights are relatively cheaper than weight machines, burn more calories and activate more muscles in the body. In addition, free weights create room for flexibility and allow people to use them in customized ways.
When it comes to developing specific functions, free weights are a better option, and also promote flexibility.
Free weights carry a greater injury risk because they are not fixed and so allow users to use them anyhow they want, which encourages a lot of beginners to use poor form.
In general though, free weights are good for building structures, developing full muscle functions and burning calories but are less suitable for beginners.
Weight Machines
Unlike free weights, machines are less versatile and they provide more support and are less risky and better for physical therapy.
It is advisable for beginners to start with weight machines. As long as the seat heights are adjusted properly, it is hard to injure yourself since it is a fixed machine.With weight machines, though, you're much less likely burn calories.
Being a fixed machine, it isolates certain muscles and is good for body building. Weights machines do not require a 'spotter' unlike free weights because there's less injury but it can however force you to move through a harmful range of motion.
Machines are less effective for weight loss because they use fewer muscle groups and burn fewer calories. When it comes to physical therapy, they're better because they offer the most support and are good for people who are confined to wheelchairs or suffer from multiple sclerosis.
In general, machines are also good for build structures, have a lower risk of injury, will likely burn fewer calories, and might be more suitable for beginners.
Hopefully, this has shed some light on the differences between free-weights and machines, so you know exactly what you're dealing with when next you decide to hit the gym.
A personal fitness trainer will be able to help you decide which of these weight training tools is more appropriate for you, and if you would like to hire one, we would be glad to connect you with someone you can trust. Please get in touch with us at:
WhatsApp number: +971565830067 (Just send us code 2748 and we will get back to you ASAP)
Contact Us: Click here to send us your details or fill in the form below.
You can get in touch with us 24/7 and one of our experts will not only give you a free consultation but also help you pick out an appropriate male or female personal trainer to meet your needs. One-on-one personal training lessons are available in Dubai, Abu Dhabi, Sharjah, Ajman and RAK.
______________________________________________________________