If you have a pool at home, you may wonder what the right age is for your kids to start swimming lessons so they can enjoy the water and be safe. The answer depends on how old your kids are and what you mean by swimming lessons.
Early Swim Lessons Benefits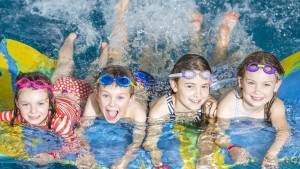 Infant and toddler aquatic programs are very popular for both parents and kids. They are a good way to teach your kids to enjoy being in the water and teach kids and parents about how to be safe around the water. However, these types of programs may not decrease your child's risk of drowning and are not a substitute for adult supervision and safety in the water, although some small studies have found that "some drowning prevention skills can be learned" by these younger children.
How Young Is Too Young?
It's never too early to get your child in the pool, just understand that they won't learn to swim at first ⏤ especially if they aren't even old enough to remember it. While it's perfectly okay to acclimate infants as young as 6- to 9-months-old to the water, the American Association of Pediatrics recommends starting kids at age one. Studies have shown that there are myriad benefits to bringing infants into the pool, including helping their balance and coordination, building muscle, and improving their sleeping. Although remember, infants under the age of one shouldn't stay in the water for more than thirty minutes and even less if they're cold.
Start With Parent-Child Lessons
For the most part, parent-child classes are like bath time, just in a larger tub of water. Many people take them to the local YMCA, and they won't include anything you couldn't do on your own in any pool. But if signing up for a class is the only way you'll have access to water, it's worth it. Classes generally run 30 minutes each and last 3-4 weeks. For infants, they mostly involve zooming your baby around the shallow end, holding them on their backs in the water, and sprinkling water on their heads. For toddlers, expect to sing songs and play games, learn to kick, jump in from the pool deck, and swim after toys. Naturally, the parent will be holding the child the entire time, and again, the goal is less about formal instruction and more about water acclimation. So don't expect them to start swimming like Katie Ledecky right out of the gate ⏤ just work on getting them more relaxed. Also, don't forget the swim diapers.
WhatsApp number: +971565830067 (Just send us the code c123   and we will get back to you ASAP)
Contact Us: fill in the form below.
You can get in touch with us 24/7 and one of our experts will not only give you a free consultation but also help you pick out an appropriate male or female personal trainer to meet your needs. One-on-one personal training lessons are available in Dubai, Abu Dhabi, Sharjah, Ajman, and RAK.