Water is called the 'building blocks of life' for a reason. Haven't you noticed how everything comes to life after the first few drops of rain in the year? How the flowers bloom and the trees grow new leaves? That's sorta the same effect water has on us (if not more)- it replenishes, refreshes and rejuvenates us. It's the source of life for every organism in this world. The earth- and everything in it (that includes humans) would die without water. Drinking adequate water has tons of benefits in the body, from increasing cognitive function to combating various skin disorders like eczema, spots, wrinkles etc to maintaining the balance of bodily fluids which aid in circulation, digestion and absorption process in the body. That's just a few benefits drinking water has, here's why you should drink water prior and post your workout sessions.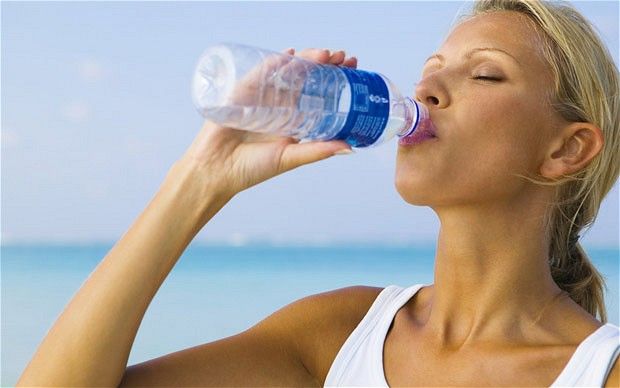 1. Water boosts your metabolism
How fast or slow your body burns fat depends entirely on your metabolic rate. So if you're working out to get in shape, stick with H20. This will get your metabolism working on full swing because your body will have to work to circulate the water around the body.
2.Water helps the heart become more effective.
During workouts, the body relies solely on the heart to pump oxygenated blood all around the body. That puts a lot of pressure on the heart and as a result the heart is overworked which is very risky and could cause heart-problem. Drinking adequate water prior or post workout alleviates some of that pressure because water (which contains oxygen) is absorbed immediately into the bloodstream once it is consumed.
3.Water lubricates the joints.
Workouts exhaust your joints, tendons and ligaments. In dehydration, your body reacts by creating lactic acid to lubricate them, this leads to muscle soreness. But if you drink adequate water, your body uses the water to lubricate those stressed joints and tendons, which would increase your range of motion, resulting in a decreased risk of getting injured and an overall more effective workout.
4.Water strengthens muscles.
Effective workouts, especially cardio require very strong muscles. Your muscles are your powerhouse when it comes to working out. The water is absorbed into the muscle cells, giving the muscle the energy it needs for easy and painless movements.
5.Water gives energy
Simple everyday activities like walking require energy, talk-less of full-blown workouts. The water we consume prior to or post workout is converted to energy in the body. Yes, we do get energy from food as well but it takes a while before food can be converted to energy as opposed to water which is automatically absorbed into the circulatory system of the body.
6.Water helps in the digestion process
Water removes toxins and waste products from various organs like our kidneys. This means an overall higher quality of life and more effective workouts because there will be more internal comfort and less hindrance.
Conclusion
Now you know just how big a difference drinking water makes to your workout. I recommend you start drinking as about now. Note that there is no such thing as substitution when it comes to water. Nothing can substitute water. True, you can stay hydrated by drinking other liquids , but unlike water, they will contain carbs and excess calories that could be detrimental to your fitness goals.
WhatsApp number: +971 56 58 30067  (Just send us code 2725 and we will get back to you ASAP)
Contact Us: Click here to send us your details or fill in the form below.
You can get in touch with us 24/7 and one of our experts will not only give you a free consultation but also help you pick out an appropriate male or female personal trainer to meet your needs. One-on-one personal training lessons are available in Dubai, Abu Dhabi, Sharjah, Ajman and RAK.
______________________________________________________________