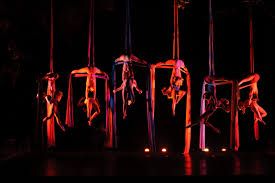 Aerial Silks
With the support of a soft suspended fabric rigged from the ceiling, Aerial Yoga explores what happens when you combine classical asanas with elements of aerial acrobatics, giving you a tool to climb, create figures and perform graceful tricks.
I couldn't have been the only one who enjoyed swinging on the monkey bars as a kid, so if this was you too then definitely consider trying out this fun fusion of yoga and aerial arts. The variety of moves, drops, wraps, twists and turns are practically endless and create an ever intriguing challenge!
The elegantly beautiful routine does not require experience, anyone can book a session and take part in  the level of experience that best fits them. You do not need to be a circus star, lifelong yogi, or natural-born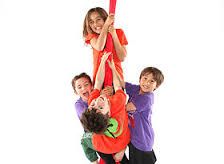 acrobat to come and enjoy this activity. Students of all levels can learn to flip, fly, and flow through Aerial Yoga sequences, so why not even bring your kids and share the exercise together.
Fitness Benefits
Aerial Silks works all round every muscle in the body.
Your arms –  wrists, forearms, biceps, triceps and shoulders will all get a workout.
Legs – quads, adductors & abductors, calves, ankles will all be hard at it.
Excellent for weight loss
Great for building core strength
Stamina and increasing flexibility
Works wonders on your core muscles and your upper body strength
And as if that's not enough, Aerial Silks is an amazing workout for your back and your abdominals and it strengthens your core as you work.
Tips: Excellent activity to share with friends and family. Superb for building your core strength after birth.