Finding the right resistance band for you is important as it helps the performance of your core, lower and upper body during exercising. There is no age or gender restrictions here.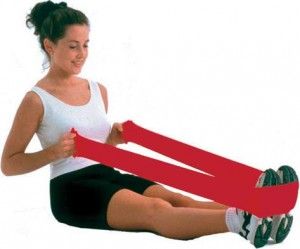 Different Types of Bands

Therapy bands
Resistance bands
Fitness tubing
Exercise band
It is in your best interest to purchase at least two different varieties of bands, you can pick and choose the intensity of your workout by taking the band that assists you best on particular days. You might also find that the band may be too difficult to use at first or simply too easy. And just think if you happened to lose one, you've always got back up.
It is important to know the level of fitness you are currently working in so you don't buy a band that is of no use for another couple of months.
Buying the appropriate band for your strength training can be more effective than having a band which is of no use and could possibly injure you.
Lighter bands are mainly used for inexperienced, rehabilitating patients or the elderly but it is entirely up to you, what makes you comfortable is most important.
Pregnant women can also choose to work with a lighter resistance band.
Those who practice intense core training can purchase extra heavy bands that are not available to all. (Bodybuilders)
Some Resistance Band Knowledge:
Therapy bands : 4 feet long – 5 inches wide
Clip tube resistance band : comes in 16 to 48 inches
Fit tubes : between 4 to 18  feet long
Ring resistance band :  8 inches in diameter
Decide to take classes

Once you've decided the sort of resistance training exercise, you can then look for classes that can help you achieve a healthier and fitter body. The classes will be taught by a qualified teacher so any questions can be quickly answered. He or she can also help you position yourself correctly and teach you more ways of using the resistance band in class or at home.