Nuts in general can be extremely healthy and we have advised and continue to advise people to eat nuts in healthy doses. However, it must also be pointed out that, just as with anything else, when taken in excess, nuts could have a significantly bad effect on health and fitness. Read on to see 5 good reasons why you should not overeat any type of nuts: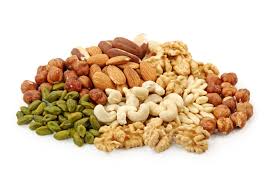 1. Weight gain
Most nuts are relatively high in calories compared to their size and they can protect against weight gain if eaten in sensible amounts; on the other hand, if you eat to many, you will end up overloading your body with calories which could lead to weight gain.
2. Allergies
Allergies are not always hereditary and can sometimes be developed or acquired. This is one risk you run when you eat too many nuts on a regular basis. This will happen when white blood cells of the immune system produce histamines in response to glutamine found in most nuts.
3. Cancer
Nuts contain a chemical called jugione which can cause cells to grow and multiply uncontrollably and can eventually cause cancer, particularly cancer of the lip; but, only after an extended period of use.
4. Constipation and other digestion problems
Although fiber does help in easing constipation and many other digestion abnormalities, if too much of it is in the belly, it can in fact cause or increase constipation as they contain high levels of fiber, and fiber in the belly will cause constipation and other digestion abnormalities like bloating (excessive gas in the digestive system that can cause the belly to swell) and cramping.
Nuts are usually an extremely healthy food but when taken in excess, they can have significantly negative effects on health and fitness. A general guideline for just how many nuts to eat per day, is no more than an ounce per day.
If you would like to hire a personal fitness instructor to help you design a fitness plan that works just for you, we would be glad to connect you with a trainer you can trust. Kindly get in touch with us at:
______________________________________________________________
WhatsApp number: +971565830067 (Just send us code 884 and we will get back to you ASAP)
Contact Us: Click here to send us your details or fill in the form below.
You can get in touch with us 24/7 and one of our experts will not only give you a free consultation but also help you pick out an appropriate male or female personal trainer to meet your needs. One-on-one personal training lessons are available in Dubai, Abu Dhabi, Sharjah, Ajman and RAK.
______________________________________________________________