National Heart Month (February)
Heart disease – often referred to as cardiovascular disease – includes a number of conditions that affect your heart. One of the most common conditions is coronary artery disease (CAD). Others include heart or heart valve defects, narrowed or blocked blood vessels, and problems with heart rhythm
Cardiovascular, Stroke  and  Heart Disease Risk Factors  
The American Heart Association (AHA) Measure the cardiovascular health of our nation by tracing seven key health factors and behaviors that increase risks for heart disease and stroke. They include:
Smoking
Cholesterol
Physical activity
Diet
Blood sugar
Cholesterol
Blood pressure
Body weight
Lower Your Risk of Heart Disease 
An important aspect of lowering the risk of cardiovascular disease is managing health behaviors and risk factors, including diet quality, physical activity, smoking, body mass index (BMI), blood pressure, total cholesterol or blood glucose.
How to Prevent Heart Disease
here are some things you can do to reduce your chances of heart disease.
Know your blood pressure and keep it under control.
Exercise regularly.
Don't smoke.
Get tested for diabetes – and if you have it keeps it under control.
Know your cholesterol and triglyceride levels – and keep them within healthy ranges.
Eat plenty of fruits and vegetables.
Maintain a healthy weight.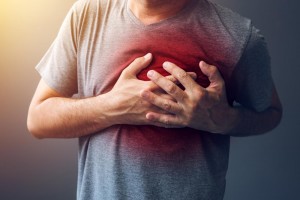 Know Your Risks, Know Your Numbers…and Talk to Your Doctor
It is easier to treat heart disease when detected early, to discuss any concerns you may have about your heart health with your physician. There are also a number of actions you can take to reduce your risk of cardiovascular disease (see lowering Your Risk of Heart Disease, below).