Jumping ropes is an exercise that almost every sportsperson should engage in. This is because it enhances speed, agility, foot speed and it works the entire body. Also, it is convenient as it doesn't require any additional equipment and it is intrinsically simple. Research shows that even a 4 year old can perform this exercise.
You can argue that this may be an overlooked exercise, this is partly because many don't know how to use this rope the right way. This article shows you 5 ways to jump ropes properly.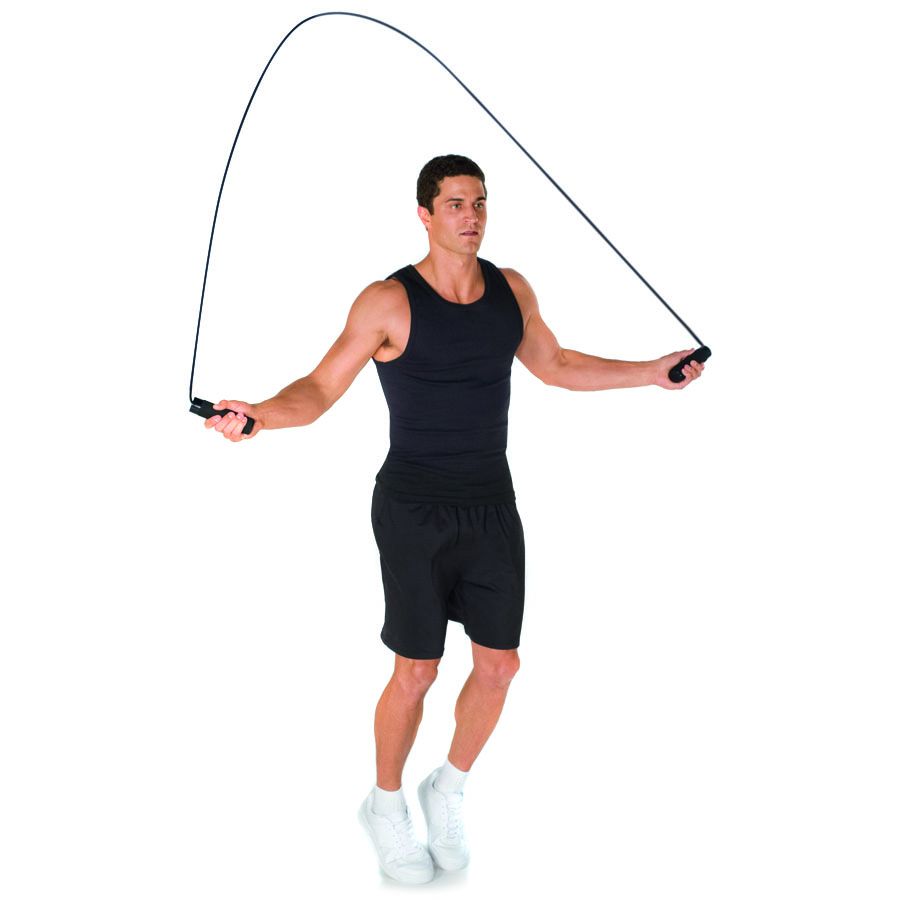 Get the right rope: Many people jump using the wrong ropes, or an improvised version of a jumping rope. A proper rope should be able to turn freely inside the handle and not get caught up while you are using it.
Moreover, watch out for the length! When you stand on the middle of the rope with both feet, the handles should reach all the way under your armpits. Jumping with a shorter rope will tie you up faster than you know it.
Bounce with it: A very common mistake to jumping ropes is the very fundamental of it; jumping. You need to jump properly and when you do, you should be on the balls of your feet (if you stand on your tip toes, the 2-4 inch area still on the ground is the ball of your foot) and your knees should be slightly bent each time you land.
Moreover, while doing this your heels must not touch the ground. If it does, it will wear you out faster. Remember, you need to relax and be fluid.
Jump on the right ground: Each surface ground will have its own characteristics. For instance, if you're jumping on carpet, you will have to jump higher because invariably your rope will bounce as well.
However, professionals say that the best surface to jump on would be a suspended wooden floor. This is because they are soft on your joints and can give you some extra bounce if you want to jump higher. But in reality, most people wouldn't have a suspended wooden floor so the next best surface is any flat one that wouldn't hurt your joints, and wear you out so fast like concrete would.
Start simple: If you watch a professional sportsman, like a boxer skipping a rope, you can't help but admire the different tricks and variations of skipping the rope. You probably want to be able to jump like them and impress your friends, but you can't do this without going through the fundamentals.
You must realize that skipping ropes like any other sport has to start somewhere, working on the basics and building up. The main thing that will make you better at skipping ropes or any other sport, is practice which will take's to the next point; practice.
Practice: There is the saying "practice makes perfect" but more realistically "practice makes permanent". If you practice skipping ropes regularly, your body inputs that into muscle memory and it becomes second nature in no time at all.
Learning the variations of skipping ropes, for instance; the arms cross, one foot hop, etc. will take time and practice is the only thing bridging the time gap. You may need to get instructions from a professional if you can.
Nothing is stopping you from becoming a pro at skipping ropes. Follow this little steps, and remember practice will take you there.
WhatsApp number: +971 55 432 4361 (Just send us code 2632 and we will get back to you ASAP)
Contact Us: Click here to send us your details or fill in the form below.
You can get in touch with us 24/7 and one of our experts will not only give you a free consultation but also help you pick out an appropriate male or female personal trainer to meet your needs. One-on-one personal training lessons are available in Dubai, Abu Dhabi, Sharjah, Ajman and RAK.
______________________________________________________________