Triceps make up the largest muscle group on your arms and by fact, working on them will make them look bigger. But sometimes defining your triceps can be a very tricky task, which is why we have come up with 5 of the best triceps workout you should always try out for bigger muscles.
Triceps push-ups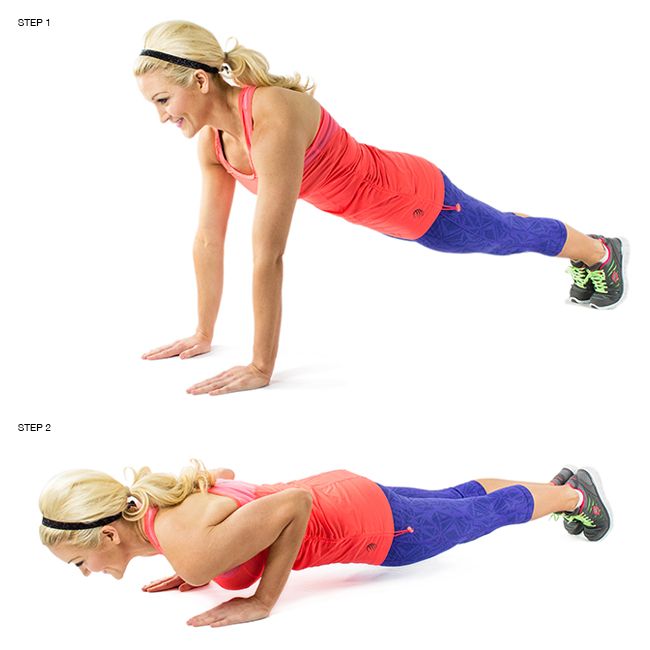 Triceps push-ups are a great triceps exercise, and a slight variety of the normal push-ups. The key to remember when doing triceps push-ups is to make your hands in the shape of a diamond, and then you get on a plank position, make sure your hands are positioned closer than shoulder width-apart, this will work your triceps. Don't ache your back, keep your head and neck in a straight line so you're looking at the ground, slowly go down to the floor until it is touching it then go back up until your hands are fully extended, then repeat.
Triceps kickbacks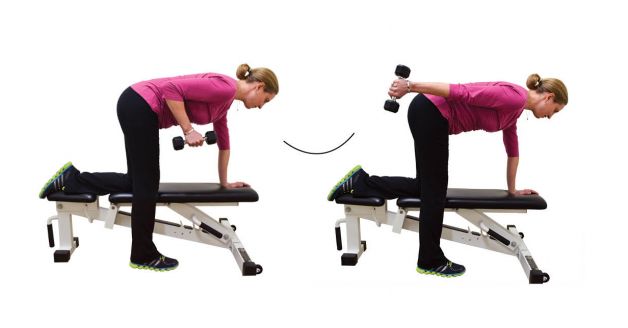 The triceps kickbacks targets the triceps muscle, helps with your elbow or lower back problems. For this, you start by placing your knee on the bench, then your hand. Make sure your body is at a 45 degree angle, bring the dumbbell up to your waist, with your upper arm stable, strain out your arm and remember not to lock your elbow. The dumbbell should be facing down, up, and slowly back down. When you're done doing the set, you switch over to the other arm. Remember to keep your abs locked in.
Triceps overhead dumbbell extensions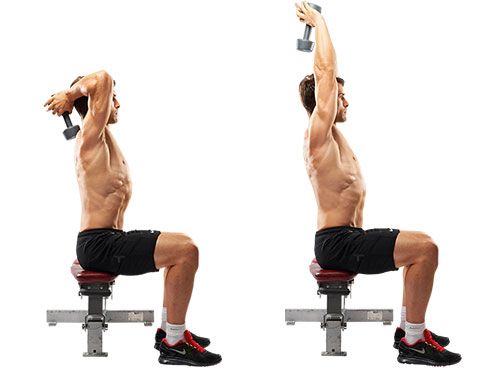 This is called overhead because you're bringing it over your head… Stand straight with your shoulder width apart, hold the dumbbell and rest it on your shoulder while you're pointing it up to the ceiling. Grab the weight and lower it back as if to scratch your back underneath your head. flex the triceps on top when you're bringing it down and stretch it out. Make sure you control it, and don't extend it with your arm straight out; keep it a little bend. Control it and give it a good squeeze while bringing it down and a good flex on top. You can do 8-10 reps and about 3 sets, and then switch arms and repeat.
Lying triceps extensions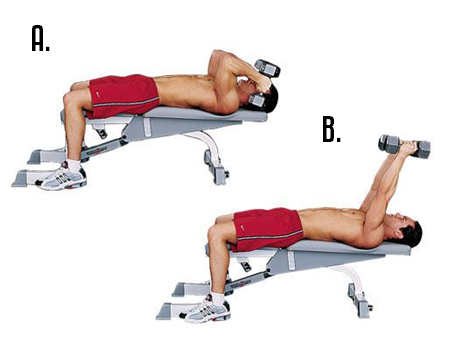 Lie with your back on a bench and hold a barbell above your chest arms length, then keep your arm rigid and lower the bar slowly until it is almost touching your forehead. Raise the bar back to the starting position and repeat.
Triceps arm pullover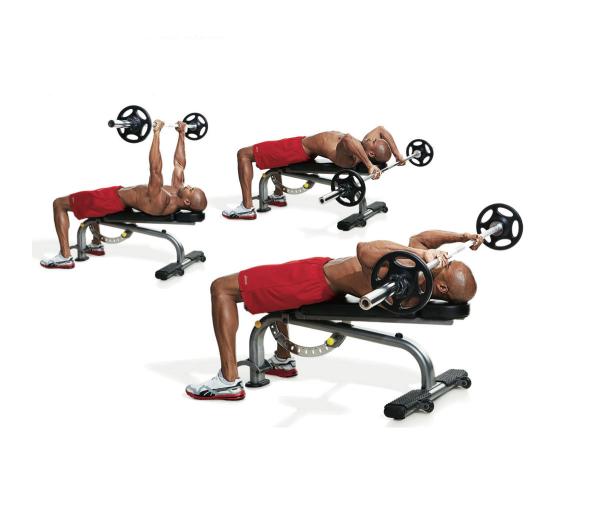 There are many ways to perform this exercise; the most common is with dumbbells and flat bench. You lie down on a bench with your feet on the floor, and place the weight directly on your head. Lower the weight towards your forehead and carefully keep your elbows from moving, then straighten your hands and keep them under control using a full range of motion. Keeping your arms healthy and under control can help isolate the triceps muscle.
WhatsApp number: +971 56 58 30067  (Just send us code 2789 and we will get back to you ASAP)
Contact Us: Click here to send us your details or fill in the form below.
You can get in touch with us 24/7 and one of our experts will not only give you a free consultation but also help you pick out an appropriate male or female personal trainer to meet your needs. One-on-one personal training lessons are available in Dubai, Abu Dhabi, Sharjah, Ajman and RAK.
______________________________________________________________