Walnuts are the ultimate food you want to eat. Although they may be small, they are definitely not insignificant This article shows you five reasons why and how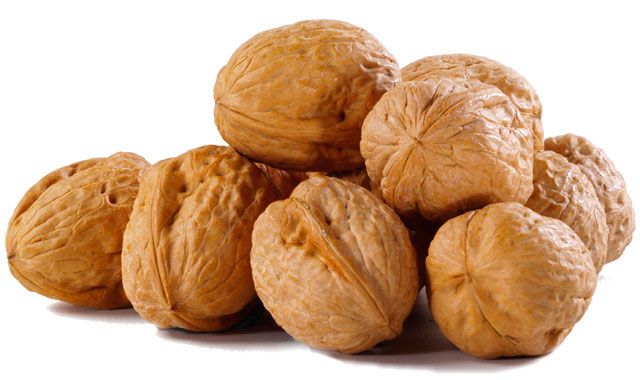 Helps in fighting Cancer:Walnuts have ben shown by studies to reduce risk of two particular cancers; breast and prostate.
Another study discovered that mice (who have been discovered to have similar builds to that of the human body) that ate the human equivalent of 2.4 ounces of walnuts for 4 months and 2 weeks had significantly smaller growing prostate tumors, compared to the other controlled group of mice that ate the same amount of fat content in walnut but from another source.
This nut-tree family member is so promising that even another research was done. This one discovered that mice that consumed the human equivalent of two walnut handfuls daily cut risk of breast cancer by half and slowed tumor growth to as much as 50 perent. As to say the original research was too good to be true.
Heart health:Walnuts contain the amino acid l-arganine. A branched protein that offers various benefits to individuals with heart disease or people with higher propensity of heart disease.
Walnuts also contain the plant-based omega-3 fat alpha-linolenic acid (ALA), an anti-inflammatory acid which means it can prevent the formation of blood clots.
Research has shown that people who eat foods or supplements high in ALA are less likely to have a heart attack. Eating just about four walnuts a day has been shown to significantly raise blood levels of heart-healthy ALA,3 and walnut consumption bolsters a holistically healthy cholesterol level.
Weight Control:A popular issue in many societes is obesity. Eating walnuts in the right quantity can help you maintain or achieve an ideal weight with time. In one research performed various times, those with diets that included extra nuts, or nuts substituted for other foods altogether, lost about 1.4 extra pounds.
Improved reproductive health for men: If you are a man, you ought to pop your eyes at the sight of this. Many people dont know about this benefit of eating walnuts.
Research has shown that walnuts significantly improve sperm quality. This will ultimately make the process of reproduction more guaranteed.
Brain Health:This is a very important benefit of eating walnuts. Without the brain functioning optimally, the body will be lagging behind. Walnuts contain vitamin E, folate, omega 3 fats and melatonin which are all neuroprotective substances (they protect the brain).
Research has shown that eating walnuts supports brain health and increasing infererential reasoning (making general decisions based on rceived data) in young adults.
Another research also discovered that foods high in anti-oxidansts lke omega 3 fats in walnuts can decrease vulnerability to "oxidative stress that occurs in aging"and increase health span for the aging as well.
WhatsApp number: +971 565 830 067  (Just send us code 2795 and we will get back to you ASAP)
Contact Us: Click here to send us your details or fill in the form below.
You can get in touch with us 24/7 and one of our experts will not only give you a free consultation but also help you pick out an appropriate male or female personal trainer to meet your needs. One-on-one personal training lessons are available in Dubai, Abu Dhabi, Sharjah, Ajman and RAK.
______________________________________________________________