Pilates are used extensively to help develop flexibility and agility, but certain Pilates moves are also very effective for straightening out the spine, which helps to relieve tension and back pain. Although most human adults probably won't grow any taller than they already are, spine straightening exercises such as the Pilates moves we are going to show you, can actually help you gain an extra inch of height. So, if you would like to know how to stretch your spine effectively, keep on reading this article.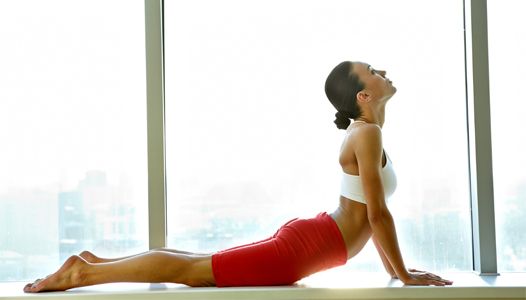 The Basic Cat
If you have a cat, then this move should be familiar to you. To get started, get down on all fours, ally your hand underneath your shoulder and your knee underneath your hips and allow your back to assume its natural position in a nonaligned spine.
Curve your back a little; allow your head to rise with your butt sticking up and out. Pull your navel in towards your spine and squeeze your butt, with your lower back curved like a C, continue rounding it into the upper back. Finally, allow the head to drop forward slowly. Your back should be curved to the extent possible and your spine making a C shape at this point. Return to starting position and repeat.
The Sexy Cat
The sexy cat requires a bit more coordination because it is more or less a modification of the basic cat. It is three dimensional and loosens up more areas of tightness than the sexy cat because you spiral the hips and spine.
Start off by doing one basic cat to get your spine contracting, then twist your hips in one direction and simultaneously in the opposite direction with your head and neck. Next, rotate your legs as if you to inscribe a full circle on the wall behind you in one direction, and in the other direction, mimic this motion with the crown of your head.
Conclusion
Be sure to go for the fullest stretch in each of the directions and try not to hunch your shoulders, let them relax down away from your ears. These two "cat" moves are an excellent way to stretch out your spine and develop your agility.
A personal fitness trainer will be able to help you design a fitness plan that works just for you, and if you would like to hire one, we would be glad to connect you with someone you can trust. Please get in touch with us at:
WhatsApp number: +971565830067(Just send us code 3500 and we will get back to you ASAP)
Contact Us: Click here to send us your details or fill in the form below.
You can get in touch with us 24/7 and one of our experts will not only give you a free consultation but also help you pick out an appropriate male or female personal trainer to meet your needs. One-on-one personal training lessons are available in Dubai, Abu Dhabi, Sharjah, Ajman and RAK.
______________________________________________________________