Top Dog trainer in Dubai
How to find a kind, fair and effective pet dog trainer in Dubai, one of the best in the country.
It is important to Learn how to train your own dog and it comes with many benefits – First and foremost it builds and strengthens your relationship with your dog, it also teaches him or her basic social skills, which are extremely important and last but not least, it is  fun!
A good pet dog trainer in Dubai or dog training  class in the city should concentrate on what you want your dog to learn. The main thing is to teach your dog to become a calm, easily controlled. When your dog is well behaved it makes integration into the family as valued member of your family and the community easier.  Need for world class dog trainers in Dubai is paramount and the rewards for having a well behaved dog are priceless.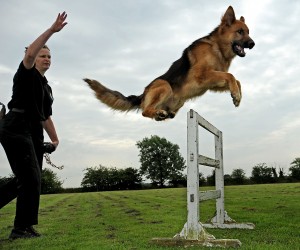 What our top dog trainer in Dubai will do for you and your dog
1. The main goal is to make sure you and your Dog both look relaxed and are happy.  It builds the foundation needed to set the stage right.
2. We do not use punitive methods or equipment to train your dog and don't recommend it even if you are using another trainer.  Imagine your beloved dog in Choke/check chains or tight slip collars, it is not pleasant for the dog and you will not like it also.  We also don't recommend use of prong collars, our experience shows that these kind of equipment are totally inappropriate as training equipment, there are much better methods for training the dog.
3. Paying attention to setting the right training environment pays its worth in Gold, which is why we do everything in our power to keep the noise to minimum.  Our world class dog trainer makes sure there is no shouting and shows you in easy steps what sign language means, when barking indicates that your dogs is in stressed and when it means the dog is excited.
4. He is one of the most approachable instructors in the world and now that he lives in Dubai, you would love his approach. He is friendly and caring and looks out for the best Interests of owner and dog.
5. He conducts private dog training for some of the top families in Dubai, both Locals and foreigners love his training.
6. He has developed unique method, which suit the dog and handler in question. He uses the Food and toys in the right way as motivators. He praise the dog when required and uses his many years of experience to motivate when praise along won't do.
7. It is important to understand, if your dog has behavioural issues, trying to get it sorted in a  training class might not be the right place.  The best solution for behavioural problems are dealt with one one one private lessons. You will be surprised with how aggressive or nervous dogs can benefit from individual attention.
8. He also offers dog training classes in Dubai especially designed for dogs who cannot take part in ordinary pet dog classes. There are many reasons why  some dogs use reactivity, fear or aggression but when you have the right trainer, he knows exactly what to do to make sure things are sorted as soon as possible.
9. Before starting any lessons, our trainer provides a Free session, which involves spending time with the dog to properly asses and to create a suitable environment.
10. Our dog trainer in Dubai has specialist knowledge of dogs with problems, and he has the skills needed to be able to teach both dog and the owner on how to improve and manage dog's behavior.
Contact Trainer.ae Today:
Let our Dubai Dog trainer help train your dog,

______________________________________________________________
Whatsapp number: +971 56 583 0067 (pls mention code Dog153 or fill the form below)

Contact us : Fill the form below and we will get back to you asap.
______________________________________________________________
We do all the relevant checks for you. All trainers from trainer.ae have the right visa and are fully qualified to train your dogs.
Get in touch with us today, one on one dog training available in Dubai, Abu Dhabi, Sharja, Ajman, Al Ain or RAK.