The Color Run™,  also known as the Happiest 5k on the Planet, is a unique paint race that celebrates healthiness, happiness, individuality, and giving back to the community.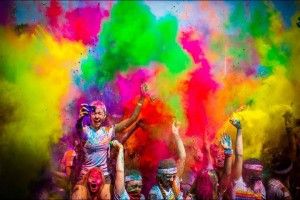 The fun continues at the finish line with a gigantic "Color Festival," using more colored powder to create happiness and lasting memories, not to mention millions of vivid color combinations. Trust us, this is the best post-5k party on the planet!
With only two rules, the idea is easy to follow:
Wear white at the start line
Finish plastered in color!
Healthiness
While The Color RunTM event is all about fun and positive energy, the 5k also focuses on promoting healthy living. Over 60% of Color Runners are first-time 5k runners and the event is making headway on the growing national focus of improving health and wellness.
Happiness
"We call The Color Run the 'Happiest 5K on the Planet' because our events bring together friends and family in a unique, healthy, and fun environment," said Travis Snyder, founder of The Color Run.
Want to add some happiness to your life? Register for The Color Run Dubai presented by ActiveLife when entries officially open at 9am on August 28th.
Individuality
"Color Runners" vary in demographics and reasons for running. With no winners or official times, The Color Run caters to anyone – 1 year olds to 100 year olds, first time runners to professional athletes. Over 60% of Color Runners are first-time 5k runners and participate as a celebration and capstone of their healthy living accomplishments.
Charity
At The Color RunTM, we're passionate about giving back to the community, so $1 of each entry will be donated to charity through JustGiving, the world's largest fundraising platform. We also encourage our Color Runners to raise even more money for the charity that is important to you personally.
Early bird entries cost Dhs140 and include a gift pack, newly designed, an event t-shirt, sweatband and colour pack.
Last year's events in Dubai and Abu Dhabi were part of more than 100 around the world, participated in by more than a million people, all of whom start wearing all white and finish it splatted like a rainbow, without a sad face in sight.
This year, runners can also look forward to a brand new finale at the end of the 5k course where a flurry of confetti and glitter will shower overs runners as they reach the finish line.
Since its arrival in Dubai in 2013, The Color Run has sky rocketed in popularity with more than 12,000 euphoric color runners ranging from ages 1 to 91 taking part in the 2014 event.
Grab your whitest kit because the year's most colourful race returns.
The Dubai Autodrome once again plays host to the annual Color Run on November 21, hailed as the 'happiest 5k on the planet.'
Run, walk or skip through the family-friendly course while volunteers throw clouds of powder paint on you at five multi-coloured paint stations. The race culminates in an outdoor paint rave and everyone ends up looking like a nursery school painting.