The sun is brightly glistening and the birds are caroling their favorite songs, it can only mean one thing! Summer is in full swing and the barbeques are at the ready. For many of us who calorie count, it'll be a sigh of relief to hear that BBQs are actually a healthy option if you eat smart.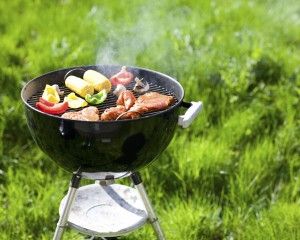 Your main dilemma might come from the meat aisle when picking what to actually cook on the BBQ, veggie burgers and fat free meats could be an option you might consider. And who doesn't love grilled chicken right? Another option you might turn your nose up on is to cook fish or shrimps on your BBQ. Make sure that the burger or hot dog buns you purchase are low on calorie intake, you might even have to fold one in half instead of having two if the calorie count is high. Another suggestion is to BBQ plenty of vegetables and add them to your burger or simply eat on the side, remember to buy lettuce!
Does the BBQ grill contain fat?
Other than giving you a crisp and smokey delicious finish, the actual barbeque grill does not add on any more calories to your food.
Things to avoid :
Big portion sizes is a no no!
Chips
Excessive cheese
Too much beer
Avoid too much sauce – definitely say no to the mayo!
---
Why not cut up fruit and vegetable for everyone to dip their fingers in whilst waiting for their burgers to cook.
Drink plenty of cold water to help you stay hydrated in the scorching summer heat.
---
Exercise
Once the BBQ burger has settled in your stomach, you might want to round up the kids for a game of football, rounders or any sport of your choosing. The beauty of BBQs is that the weather is lovely and everyone will be in good spirits to tag along.
Important : Don't forget the sun screen!