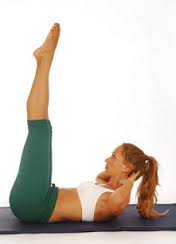 Lower abdominal fat, which often includes deep visceral fat that surrounds your vital organs, can be tough to get rid of. Simply doing crunches and sit-ups will tone the underlying muscle, but those exercises are not effective for fat reduction. Consistent cardiovascular exercise performed at appropriate intensities, combined with healthy nutrition, can help you reduce and eliminate unwanted stomach fat.
Step 1
Do high-intensity cardio training at your peak effort three to five times per week.
Choose rhythmic activities such as walking, running, cycling and swimming performed at an intensity that you perceive to be "very challenging" for at least 20 minutes per session.
Step 2
Work high-intensity intervals into your moderate-intensity cardio sessions.
Walk at a brisk pace for three minutes, then run all-out for 30 seconds.
Repeat this cycle seven to 10 times.
Gradually shorten the lower intensity intervals and lengthen the higher intensity intervals.
Step 3
Embrace healthy whole-food nutrition.
Choose unrefined fruits and vegetables and lean proteins.
Steer clear of simple carbohydrates such as white bread, refined-grain pasta and sugary drinks as they can result in increased fat storage.