It becomes a great concern when you look at the mirror and see the reflection of someone with fat cheeks staring back at you. Having a fat face can be embarrassing and not too pleasing and for this reason, you start thinking of ways to make your face slimmer
The good news however, is that you don't need to look too far. Asides the fact that yoga helps you lose weight, it can also get rid of flabby cheeks and double chin. It will help to reshape your entire facial structure; giving your face a slim and sculpted look.
Below are a number of effective facial yoga exercises:
1. Lion pose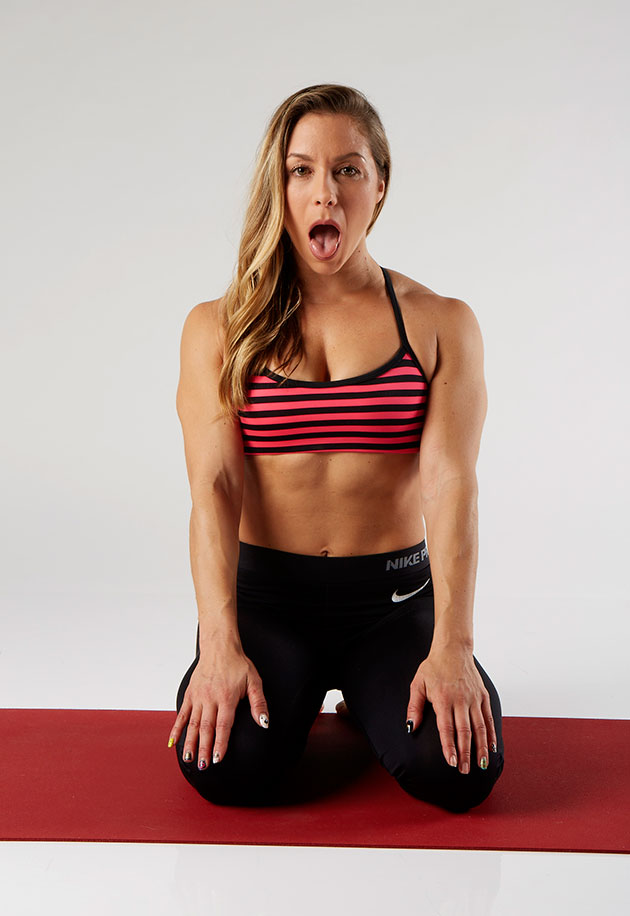 The lion pose is known to be the most effective yoga pose for making the face slimmer.
Stoop on the floor with palms on the knees. Ensure that your palms and all 10 fingers are straight as much as possible. Inhale deeply with your mouth open, jaw dropped, and tongue stuck out downwards. Then, exhale through your mouth and make a sound like that of a lion. This pose will help to tone up the muscles of the face, and as time goes on, it will help the face to become slimmer.
2. Chin lifts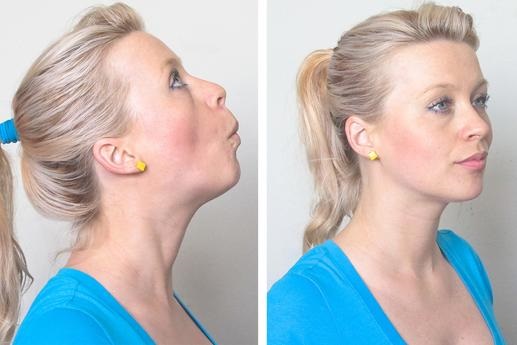 This pose focuses on the chin and lips. To do this, you will have to focus on the ceiling; ensure your gaze are up. While you're still on that, pull your lips together and make them very tight. Remain in that position for about 10seconds, after which you can relax and repeat the same process.
3. Blowing air
Keep your spine in an erect position and tilt your head to the back, with your gaze directed towards the ceiling. Pull out your lips and blow air. Keep blowing air for about 10 seconds or more. Do this repeatedly.
4. Locked tongue
This pose helps to shape the jaw line and gives a sharp and smart look.
Sit straight on the ground, with legs crossed and hands placed on your laps. Roll your tongue up to touch the upper palate of your mouth with its tip. Try to open your mouth as wide as you can, with your tongue still in that position. This will result in a feeling of extreme stretch on your face and throat. Remain in that position until you can no longer hold the pose. The locked tongue pose helps effectively to boost blood circulation throughout the face, and in addition, tone face muscles.
5. Smiling fish face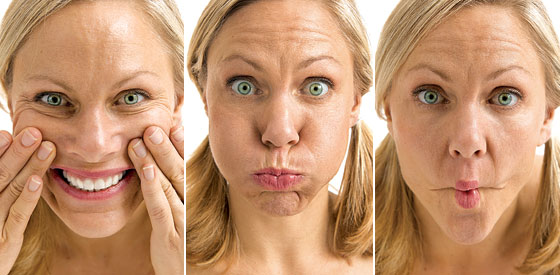 This pose, just like its name, requires you to form your face into a fish-like face. While making a smiling face, push your lips a little, withdraw your cheeks, and squeeze them into the hollows of your face. Remain in this position for about 10seconds or more and repeat the action.
6. Marilyn
This is a very simple yoga pose that is also very effective. Blow kisses into the air, repeat it for about four times. Then, press your lips against two fingers and also repeat for about four times. Relax, and repeat the process.
Conclusion
Face yoga helps to train and strengthen the muscles around the face, to get rid of baggy eyes, fatty cheeks, wrinkles, etc. Some effective face yoga poses have been mentioned above. Do them continually and be sure to see positive result with time.
WhatsApp number: +971565830067 (Just send us code 9655 and we will get back to you ASAP)
Contact Us: Click here to send us your details or fill in the form below.
You can get in touch with us 24/7 and one of our experts will not only give you a free consultation but also help you pick out an appropriate male or female personal trainer to meet your needs. One-on-one personal training lessons are available in Dubai, Abu Dhabi, Sharjah, Ajman and RAK.
______________________________________________________________