We all retreat into a fragrant bowl of warm vegetable pho when our body is under a lot of pressure and illness. Whilst many will assume comfort foods are burgers, chips, maybe doughnuts and ice-cream they're really missing out on the treasure of a steamy therapeutic bowl of broth.
Although many of these vegetable recipes are low on calories it is still important to monitor your portion size.
Classically this exquisite soup can be filled with chicken or beef, but many will keep it very simple with just vegetables such as herbs, onions, lime, sweetcorn, broccoli and chiles. Making your own vegetarian pho at home can be easy, you can choose to experiment with spices and gingers depending on your own taste preference, the filling meal can be cooked and readily packed for you to take into work as a lunch time meal.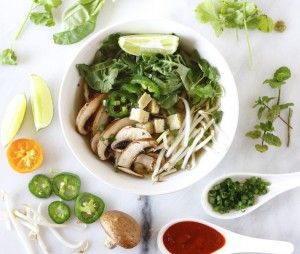 Calorie Intake

The calorie count in this traditional Vietnamese delight can be between 200 to 600 calories depending on what you've topped it up with.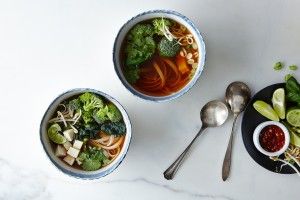 Adding beef to your dish.

Most restaurants will serve beef pho as a separate meal, when you're keeping your calories on strict count, opt to have a small portion. A 1-cup portion of beef pho contains around 176 calories.
What can I use instead of sticky noodles?
Many prefer to use brown rice angel hair pasta as a healthier alternative.