Search for the Right Fit and Create Your Own Finish Line
A good personal trainer can help you get slimmer and stronger just as quickly as a bad one can lighten your wallet and leave you limping along the side of the road. A well-trained fitness coach will know how to guide your strength and conditioning goals while keeping you off the injured reserve list.
Credentials First
Anyone can call him/herself a personal trainer with a few qualifications and a great body; however, educational programs are available for trainers, each requiring various coursework, workshops, testing and costly training. Investing time and money in professional credentials is, if nothing else, an indication that the personal trainer is serious about his career.
Once you determine your prospective trainer's credentials, think about how your education might help you achieve your goals. Do you want to lose 10 lbs. by the summer, run a 10K, or simply feel better on a daily basis and improve longevity? We believe it's easier to stay motivated when your long-term goals are related to health, as opposed to aesthetics.
Ask about your trainer's current clientele. If you're a 45-year-old woman, but your trainer usually works with 20-something gym models, it might not be a match made in bodybuilding heaven. Ideally, you want a trainer who relates to your particular fitness level. If you have injuries or chronic health problems, that's even more important. Anyone can go out and beat you up. A good trainer knows how to make adjustments based on your age, health and any special health conditions.
All About Qualities
Is your trainer the strong, silent type or a no-holds-barred drill sergeant? A trainer's means of motivating is a significant consideration. Certain styles will keep you pumped up, while others will give you a headache. The only way to know for sure is to go through an actual training session. Many trainers will give you the first session free so remember to ask.
Observe your trainer candidate in his natural habitat: the gym. Does your trainer surround himself with a quality entourage? Ideally, your trainer's inner circle should be composed in part of medical professionals. Good trainers have longstanding relationships with competent professionals who know sports medicine, physical therapy and nutrition.
Don't overlook likeability. You're going to be sweating it out with your trainer at least twice a week in most cases. You'll need to share personal information about your health and wellness. At the very least, you should enjoy this person's company.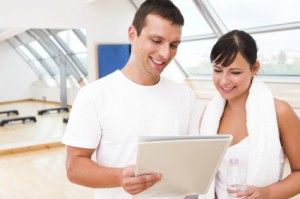 Reaching Results
Your trainer should start with an overall assessment of your health, including a body-fat analysis. Talk with your trainer about what you hope to accomplish, and be ready to accept frank feedback. If you commit to at least two days a week, you'll see results in the first month. Then, be patient. Super bodies don't evolve overnight, even for the camera-ready Hollywood types.
One of the biggest reasons people drop out from a training program is the unrealistic expectation that weight training is a silver bullet. You should look at it as one component in an overall plan for good health. Eating right, other forms of exercise and overall balance should also be part of the mix. You can't expect to hit the gym a couple of times a week, eat whatever you want and still meet your goals.
A good trainer will continually mix up your routine and come up with new and creative ways to help you stay motivated. Don't be shy about suggesting something you'd like to try either.
Remember, throwing money at someone to help you sculpt a better body won't replace hard work and dedication. Half the battle is finding the right person up front, before you ever break a sweat. Working with a personal trainer should be a great experience. In the end, most trainers and experts agree: Major results boil down to the client's determination and readiness to incorporate fitness into a healthy lifestyle for the long haul.