Whatever your age or your ability, we can help you improve your tennis skills with our Tennis Coaching. We offer both group and individual lessons and these are run in a fun, social and relaxing environment.
One of the best benefits of playing tennis is that it gives your child an opportunity to meet and make new friends. Our coaches and staff are on hand to ensure your child stays safe while having fun.
As long as your child can hold a racquet, they can learn the fundamentals of tennis. And we'd love to teach them how to start.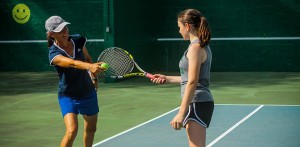 Working Together as a team
The sport of tennis additionally encourages social skills as the players work as a team. The kids learn about the significance of cooperation in doubles matches and furthermore the importance of communication with opponents in singles.
The best ways to get kids started playing tennis is to introduce them in a way that's fun, easy and social
Points of interest for Children Playing Tennis
Physical points of interest include:
Increases aerobic fitness by burning fat and improving cardiovascular fitness
Increases anaerobic fitness by offering short intense bursts of power
Improves quick reaction time, and explosion into action
Builds leg and upper body strength
Gross motor control over large muscle groups
Improve balance
Improvement of bone strength
Psychological advantages include:
Develops a good work ethic
Develops discipline
Accepting responsibilities
Learn to cope with stress, physical and mental
Plan strategies on how to beat an opponent
Learn to solve problems
WhatsApp number: +971565830067 (Just send us code 0324 and we will get back to you ASAP)
Contact Us: Click here to send us your details or fill in the form below.
You can get in touch with us 24/7 and one of our experts will not only give you a free consultation but also help you pick out an appropriate male or female personal trainer to meet your needs. One-on-one personal training lessons are available in Dubai and Abu Dhabi.