Neem oil, a vegetable oil gotten from the fruits and seeds of the neem tree, is effective in treating dandruff and also keeping the scalp clean and smooth. Today, neem is known to provide several benefits to human; it is being used in soap, skin creams, and body lotions, and its leaf can also be used to treat acne and scars. There are many other benefits of neem, but in this context, we'll be looking at ways in which it can reduce dandruff.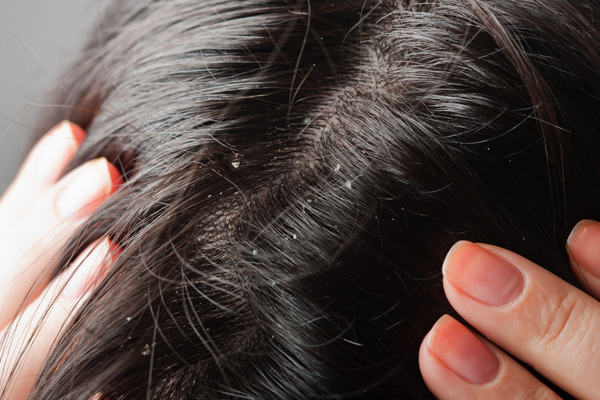 Method 1:
Start by washing your hair thoroughly and properly, then apply apple cider vinegar to your scalp, and wait for few minutes before rinsing it off. Now, dry your hair a bit; after you have done that, you can then apply the neem oil to your scalp. Make sure it is not too much, then dry it off with a clean towel.
Method 2:
Sometimes, you might need additional oils for effectiveness; rosemary oil and tea tree oil can work the magic. In equal proportions, mix rosemary oil, tea tree oil, and the neem oil. Mix well, and apply to your scalp. Leave for few hours, preferably just two hours, and then wash off with shampoo.
Method 3:
Do you know you can also step up your regular shampoo with neem oil? Add ½ tablespoon of neem oil to your everyday shampoo; shake gently, to mix the two contents. This way, your shampoo isn't just a regular one; if applied at least once in a week, there will be results in a couple of weeks.
Method 4:
This neem oil can also be applied directly on the scalp, albeit in a less concentrated form. After applying the oil on your scalp, leave for an hour to allow it sink and work on your scalp, then you can shampoo your hair and dry it.
Method 5:
To get a very good conditioner for your hair from neem oil, mix a capful of neem oil with a tablespoon of olive oil, and apply on your scalp. Leave for 20 to 30minutes, then shampoo it.
Method 6:
Many times, dandruff causes the scalp to itch, which can be really disturbing. To get rid of itchy scalp, you will need a smooth mixture of few drops of neem oil and a cup of curd. Apply the solution to your scalp; leave for about 20minutes, then wash off with shampoo.
Method 7:
You can mix neem oil with other kinds of oil, like coconut oil, olive oil, jojoba oil, to make it less concentrated. If used directly, it might be too strong for your scalp, thereby causing serious damages.
Conclusion
Above are ways in which you can use neem oil to get rid dandruff. The oil shouldn't be refrigerated but rather stored in a cool dry place. If you've been bothered about dandruff and itchy scalp, it's time to grab neem oil.
WhatsApp number: +971565830067 (Just send us code 14662 and we will get back to you ASAP)
Contact Us: Click here to send us your details or fill in the form below.
You can get in touch with us 24/7 and one of our experts will not only give you a free consultation but also help you pick out an appropriate male or female personal trainer to meet your needs. One-on-one personal training lessons are available in Dubai, Abu Dhabi, Sharjah, Ajman, and RAK.
(Just send us code 15198 and we will get back to you ASAP)
Contact Us: Click here to send us your details or fill in the form below.
You can get in touch with us 24/7 and one of our experts will not only give you a free consultation but also help you pick out an appropriate male or female personal trainer to meet your needs. One-on-one personal training lessons are available in Dubai, Abu Dhabi, Sharjah, Ajman and RAK.
______________________________________________________________